Archive for the 'Bikes' Category
Review from someone that has owned both.
Summary
Despite very similar specs, these are two very different bikes.
Versys is more "fun" to ride round town, but not so comfortable on longer rides in stock form.
VStrom is better to customise and tour on. it has ABS.
  Read more... (409 words, 2 images, estimated 1:38 mins reading time)
The link is below.
http://www.msf-usa.org/imsc/proceedings/a-Green-ComparisonofStoppingDistance.pdf
Most interesting. My next bike will have ABS methinks. I have no delusions about how good my riding is. If I can concentrate 5% more on traffic cause I don't have to worry about braking, that's a good thing.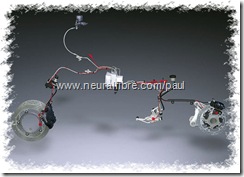 Read more... (176 words, 1 image, estimated 42 secs reading time)
Buying motorcycle helmets used to be easy. Plastic was crap, Fibreglass was good, Kevlar / Carbon was best. If it was a Shoei, Arai or Bell it was good, everything else was only OK.
BUT – interestingly enough, every single helmet you could buy had passed the crash test standard, so the better / worse was opinion, nothing more. In Australia this is an Australian Standard (similar to the US DOT standard, and many others). Really, it's a "minimum", everything on the market is better than the standard, it's just a question of how much. Read more... (313 words, estimated 1:15 mins reading time)